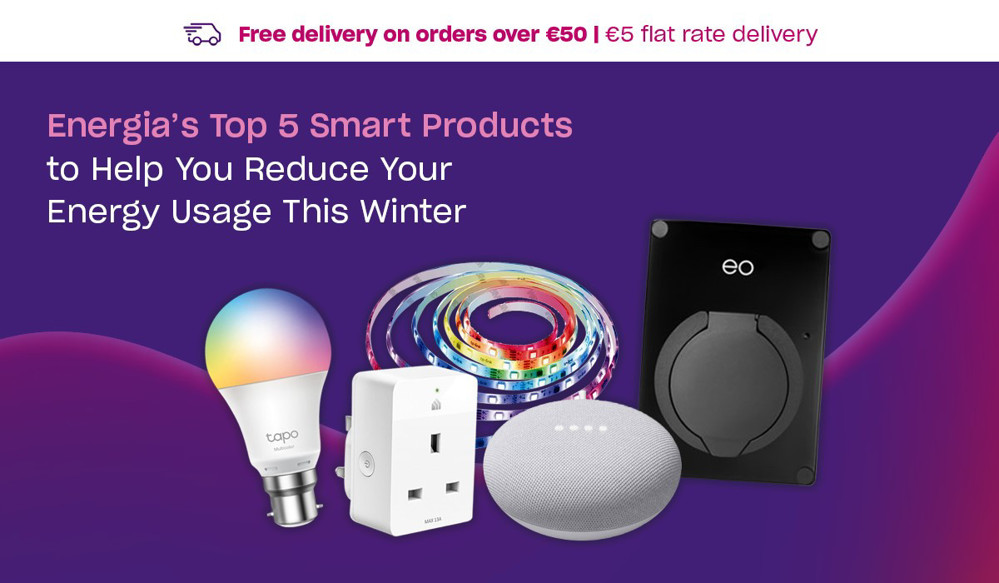 Reducing your energy usage has become more important than ever before given the current climate. Here at the Energia Smart Home Store there are loads of handy devices which can help you monitor, control and save on your electricity! We've compiled a list of the top 5 products that can help you manage your energy usage over the winter months and beyond.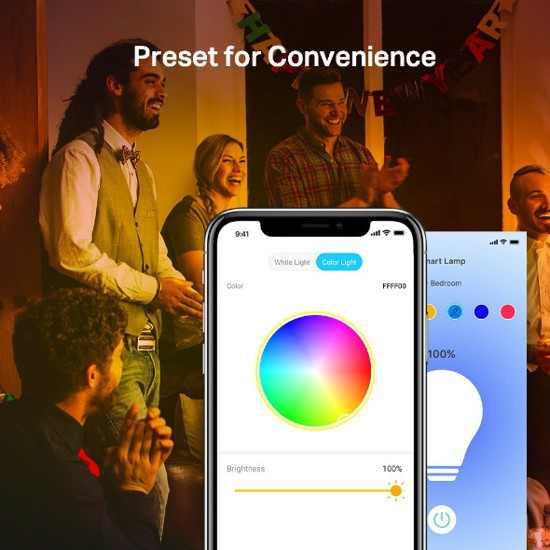 LED bulbs are a great way to reduce your energy usage. They use up to 85% less electricity than traditional lightbulbs. With the Tapo Smart Wi-Fi Bulb, you can choose from 16,000,000 different hues which can match whatever mood you're feeling throughout the day! It's perfect for parties over the Christmas period or even for some added ambience while settling down to watch your favourite festive film. The ability to dim or turn off the bulb using your phone puts you in charge of your energy usage, no matter where you are! 
Wi-fi connection is required to use this product. 
Energia has other great smart bulbs on offer on within the Smart Lighting category. 
The Tapo Smart Light Strip can help you save on your Christmas lighting this year! The light strip can be controlled from your phone and even has a voice control feature. This product can last longer than traditional Christmas lights because of its PU coating, which keeps the maintenance to a minimum. The schedule and timer feature gives you control over your energy usage and with the product connecting directly to your home Wi-Fi, there is no need for any additional equipment! 
Wi-fi connection is required to use this product. 
Here at Energia we have everything you need for electric vehicles. We have an electric car energy plan and even offer customers the world's smallest charger, the Energia EO Mini Pro 2. We offer both tethered and untethered options and installation is included in the price! Electric cars are increasingly popular as the focus on emissions and protecting the environment is becoming so important. With the EO Smart Home app, you can stop, start and even schedule your charging sessions. The EO Mini Pro 2 also has a dynamic load management feature which means it can turn itself off when another high-power unit is on in your home in order to conserve energy! 
TP-LINK Kasa Smart WiFi Plug Slim with Energy Monitor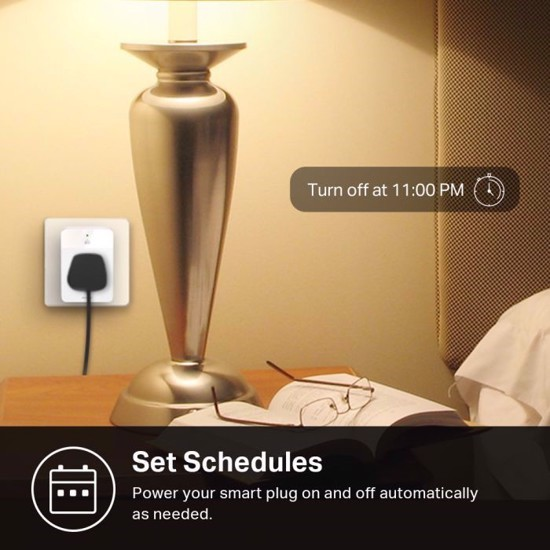 Having a greater insight into your energy usage becomes even more important over the winter months.This smart WiFiplug with an energy monitor allows you to track the amount of power that your appliances and devices are using, it can even provide you with an estimated cost of use! This device gives you total control of the energy usage in your home as you can schedule for devices to be turned off at certain times. Whether you're doing your Christmas shopping or just in work, you can control your devices with the free Kasa app on your mobile phone.You can even put the kettle on before you head home for that much needed cup of tea once you get in the door! 
Wi-fi connection is required to use this product. 
The Google Nest Mini can play your music with fantastic sound quality and help create a great party atmosphere. The Nest Mini can pair with smart devices in your home and allows you to control any compatible smart devices with your voice. You can ask the Nest Mini about the news, weather or even just set timers and alarms. The device has a 40% stronger bass than the original Mini which ensures your music and podcasts sound great! The Nest Mini is environmentally conscious too with the enclosure made from 35% post-consumer recycled plastic, and the fabric covering is made from 100% recycled plastic bottles. 
When pairing the Nest Mini with any of your smart lighting and smart plugs, you can gain even greater control over your devices with your voice. This is an easy way to make home life a little more fun all whilst being energy efficient. Smart speakers are a great pairing for many connected devices and can be placed in many rooms around your home. 
Wi-fi connection is required to use this product. 
These products are a great way to reduce your energy usage this festive period but there are also plenty of helpful tips we have put together to help our customers over the colder months. Check these out on the Winter Ready section of our website.